Convenient • Private Consultation Rooms • Professional
It's never too early to start thinking about this years flu season. Over time new flu strains evolve which means last years flu jab may not protect you from this year's strain. That's why it is important to have the flu jab every year to protect you and those around you.
Highly contagious, the flu can quickly spread among individuals, especially in densely populated environments such as schools and residential care facilities.
Protect you, your family and friends this winter with a flu jab.
If you are not eligible for a free NHS vaccination our private flu jab service is available for £16.99.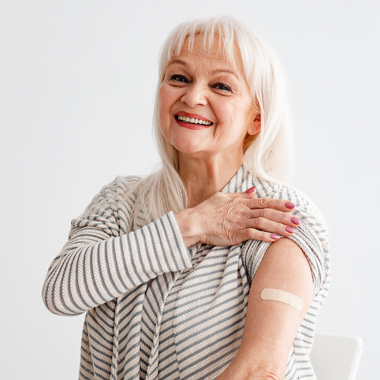 Am I eligible for a free NHS flu jab?
Check below to see if you are eligible for a free NHS flu vaccination. Please be aware that this list is not comprehensive, as there may be additional eligible groups and age categories that can receive a free flu shot through their general practitioner (GP).
Age 65+ years (including those turning 65 years on or before 31st March 2024)
Pregnant women (18+ years)
Age 18+ years with any of the following conditions:

– Diabetes
– Asthma (treated with a preventer inhaler) / COPD or any other long-term lung condition
– A long-term heart condition
– Kidney or liver disease
– A neurological condition such as Parkinson's disease, motor neurone disease or MS
– A learning disability
– A Body Mass Index (BMI) of 40 or more (severely overweight)
– Problems with your spleen like sickle cell disease, or if you've had your spleen removed
– A weakened immune system (or are in close contact with someone who has a weakened immune system) due to a medical condition such as HIV, medication or treatment (e.g. cancer chemotherapy)
– A carer in receipt of carer's allowance, or the main carer of an older or disabled person
– A frontline healthcare worker in social care or a hospice that does not have an employer-led occupational health flu vaccination scheme
– Living in long-stay residential care
Reserve Online clinics – tell us your preferred day and time and and a member of staff will confirm your booking.

Book Online clinics – use our online booking system to instantly confirm your time slot with the ability to make changes to your appointment online.
Badham Pharmacy
45-47 Filwood Broadway
Knowle
Bristol
BS4 1JL
Badham Pharmacy
Churchdown Surgery
Parton Road
Churchdown
GL3 2JH
Badham Pharmacy
11 The Square
Stow on the Wold
GL54 1BQ
Badham Pharmacy
Unit 2, The Village Square
Upper Rissington
Cheltenham
GL54 2FL
Badham Pharmacy
3 Old Market
Nailsworth
GL6 0DU
Badham Pharmacy
105 Queens Road
Tewkesbury
GL20 5EN
Badham Pharmacy
94 High Street
Tewkesbury
GL20 5JZ
What are the flu symptoms?
The symptoms of the flu can vary in severity and may include:
Sudden fever of 37.8°C (100°F) or higher
Dry or chesty cough
Sore throat
Runny or stuffy nose
Muscle and body aches
Fatigue/exhaustion
Headache
Chills
Vomiting or diarrhoea (more common in children)
Typically, symptoms begin with a cough or sneeze, leading to the spread of small droplets containing the virus. These droplets can either be inhaled by others or settle onto surfaces that may be touched. Even individuals with minor or no symptoms can still transmit the infection to others.
In severe cases, the flu can lead to complications such as pneumonia, bronchitis, and worsening of underlying health conditions. High-risk individuals, including the elderly, young children, pregnant women, and individuals with certain chronic health conditions, are more susceptible to severe flu symptoms and complications.
Preventive measures, such as getting an annual flu vaccine, practicing good hygiene (like washing hands frequently), and avoiding close contact with sick individuals, can help reduce the risk of contracting and spreading the flu.